Cloud based video broadcasting solution for IP cameras!
Easiest way to embed live video in your web page!
Generate time-lapse video online!
Why makes it a challenge to embed the live video of an IP camera in a web page?
IP cameras don't have a video player component that is supported by major platforms
IP cameras serve a limited number of concurrent viewers only
The bandwidth is limited at the camera location, so only few viewers can be server directly from the camera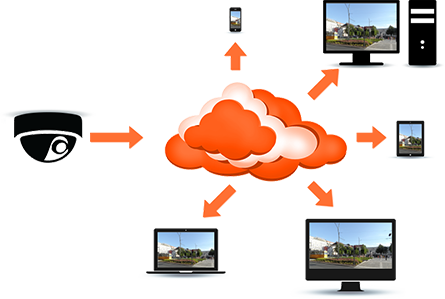 Ease to integrate with
IPCamLive
IPCamLive

provides a video player component (based on Flash / HTML5) than can display live video image on major platforms (PC, MAC, MOBILE, Tablet, ect)
Easy to connect the IP camera to IPCamlive system via HTTP / RTSP /RTMP / ONVIF protocol without any additional PC or software

IPCamLive

can receive and display MJPEG / MPEG4 / H.264 / H.265 video streams

IPCamLive

can handle 4K UHD resolution video streams as well, so high video quality can be displayed to the viewers

IPCamLive

servers can serve an unlimited number of viewers simultaneously
Easy way to produce time-lapse clips from an IP camera
IPCamLive

produces time-lapse clips from the video stream received from the camera
Time-lapse clips:

Long-lapse clip (long time-lapse video that capture multiple days)
Daily time-lapse clips (a whole day turned into a 2-minute-long video)

IPCamLive

hosts your videoclips so you can easily embed them using the HTML snippet generated by

IPCamLive

You can download the H.264 compressed time-lapse video clips
Different time-lapse operation modes
Live-stream generated time-lapse clips: This feature requires your camera to be streaming continuously. The images are captured right from the live stream of your camera. Greatest way to both have a live stream and time-lapse together that can easily be integrated into your website to promote your business.
Snapshot method: If you would not like to stream continuously, only during a given period or only when you have active viewer, you can use this option to generate your time-lapse clips.

IPCamLive

can pull static images from your camera to create time-lapse clips of your project. This method is beneficial if you are not looking for live streaming or have a mobile data connection and therefore you need to save bandwidth.